Today, we're taking you to Liverpool, a city that beats to the rhythm of its own tune, bustling with the old and the new, the historical and the contemporary, living side by side. But we're not just showing you any ordinary tour of Liverpool; we're soaring to the sky and sharing the secrets of Liverpool's vibrant nightlife.
Imagine this: Warm breezes brushing against your face, the clinking sound of glasses beneath a starlit sky, and the vibrant cityscape of Liverpool stretched out beneath you. Picture yourself sipping a perfectly chilled cocktail, the murmur of relaxed conversations around you, the twinkling city lights reflecting off your glass, and the iconic skyline of Liverpool offering the backdrop to your evening. Sounds enticing, doesn't it? This is what awaits you in the city's rooftop bars, a secret the locals have been cherishing, and we're about to let you in on.
In this blog post, we'll whisk you away on a whirlwind tour of Liverpool's top 8 rooftop bars. These lofty establishments not only promise an outstanding selection of beverages and culinary delights but also serve up sweeping vistas of Liverpool's skyline that will leave you breathless. Let's get into it.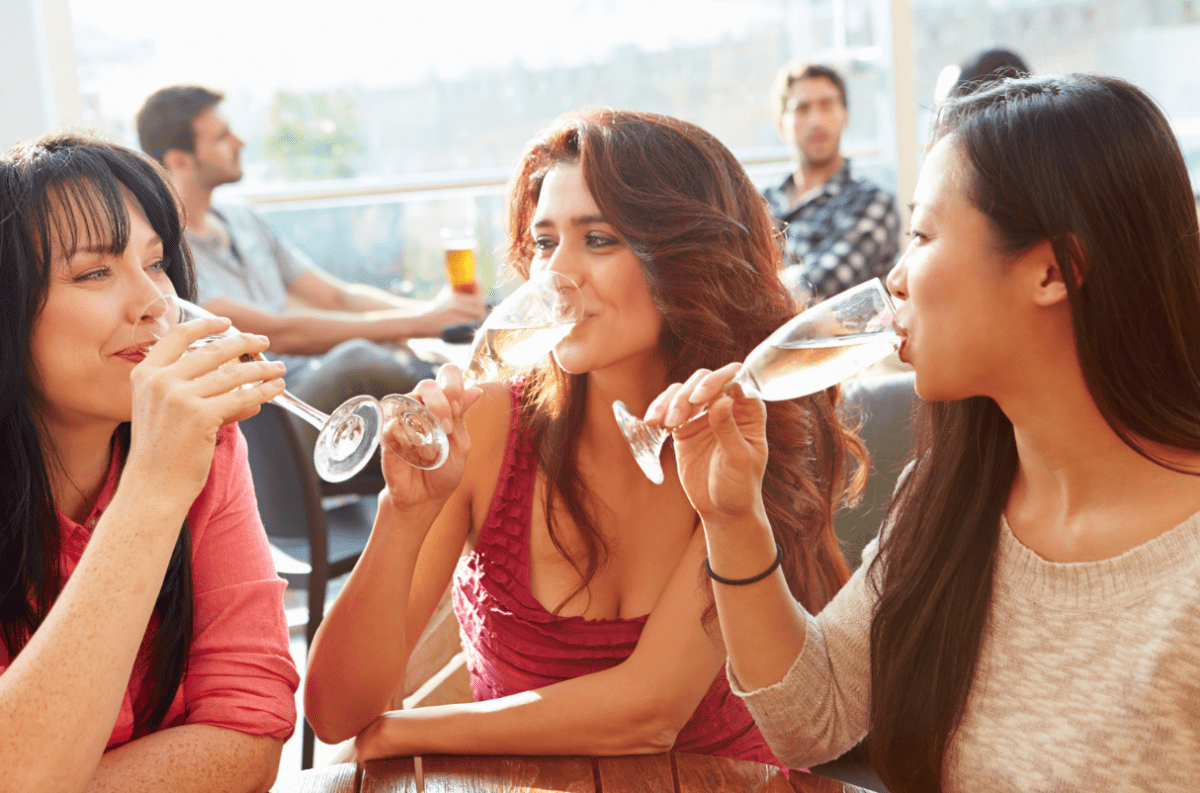 Overview:
1-The Roof Project
Your first stop is The Roof Project, a rooftop bar that's more than just a place to grab a drink. This is where the city's cool and trendy gather to enjoy cold beers, exotic cocktails, and a selection of hard liquor. But it's not just about the drinks here. The Roof Project also serves delicious food, including pizza by the slice, smash burgers, and smoked meats. And if you're in the mood for fun, they even have beer pong and special offers every Thursday. This rooftop bar is open from Thursday to Sunday, perfect for a night out with friends or a relaxed weekend afternoon.
Location: 42 Gradwell Street, Liverpool, L1 5AP
Contact: 0151 370 0000
Email: [email protected]
2-Red Door
Next on our list is Red Door, a place that's been changing the world one drink at a time. This rooftop bar is known for its fantastic tunes inspired by the cities they live in and its spacious terrace. From long-forgotten classics to wonderful curveballs, they've got it all. The staff here are known for their attentiveness and helpfulness, ensuring your drinks are replenished before you run out. The drinks menu is extensive, and all drinks are of exceptional quality. The atmosphere is excellent, making it the best place for a night to remember. They're open from Thursday to Sunday, with extended hours on Fridays and Saturdays.
Location: 21-23 Berry Street, Liverpool, L1 9DF
Contact: 0151 709 7040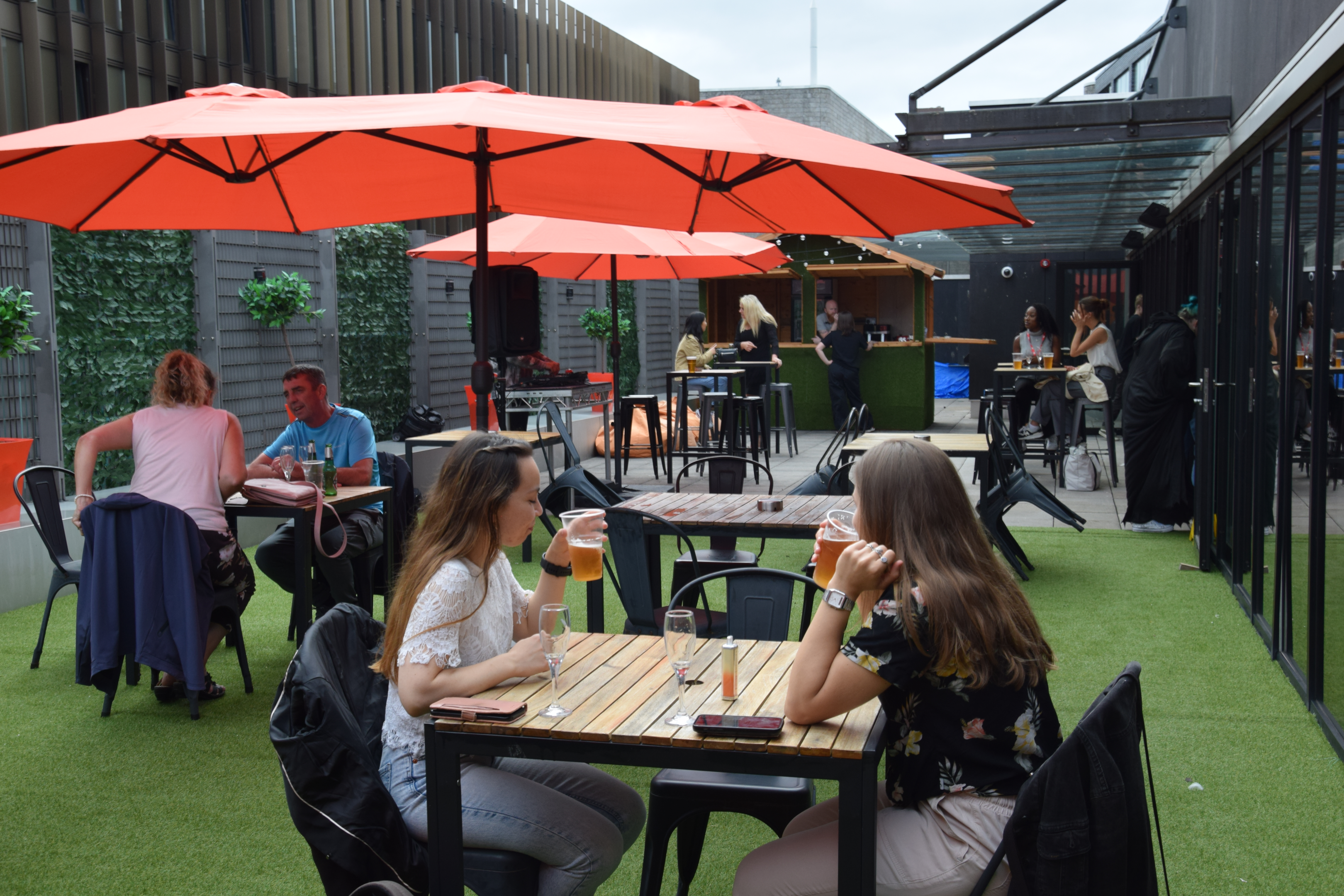 3- Escape Live
Get ready for an experience like no other at Escape Live, Liverpool's newest venue that's not just about escape rooms but also about enjoying the city's skyline from their Rooftop Terrace Bar. This is where adventure meets leisure. After cracking codes and solving puzzles in one of their seven unique escape rooms, you can head to the rooftop bar to unwind.
The bar is fully stocked, and the private function room makes it perfect for families, friends, couples, colleagues, and special occasions. Enjoy the atmosphere and spacious rooftop terrace high above the streets of Liverpool with a fresh pizza from their oven. Discuss the best puzzles, what clues you found, and which escape room you will take on next, all while taking in the stunning views of Liverpool.
Location: Liverpool ONE, 3 College Ln, Paradise St, Liverpool L1 3DS
Contact: 0151 318 5800
4- Tempest on Tithebarn
This rooftop bar is more than just a place to enjoy a drink; it's a space that brings people together. From early-morning caffeine and sugar fixes to lunches with friends, after-work drinks, and late-night parties, Tempest on Tithebarn has got you covered.
They pride themselves on keeping things fresh and local, from the honey in their food and cocktails produced by the bees on their roof to a forthcoming herb garden that will further enrich the food they serve. When not booked for events, the rooftop is open for walk-in drinks this summer, weekdays from 5 pm and weekends from noon – weather dependent.
Location: 12 Tithebarn St, Liverpool L2 2DT
Contact: 0151 242 6170
Email: [email protected]
5- 14 Bar & Grill
The 14 Bar & Grill is your next destination. This rooftop bar is known for its outdoor terrace, providing a perfect relaxing evening setting. Please note that they do not accommodate drinks-only bookings, so it's a great place to enjoy a meal with your favourite cocktail. To ensure you get a spot, booking in advance is recommended.
Location: 14th Floor Daniel House, 31 Trinity Road, Bootle, L20 3TB
Contact: 07493217796
Email: [email protected]
6- Goodness Gracious
Goodness Gracious is a rooftop bar all about sunshine, disco and unrivalled views of Liverpool's iconic Three Graces. Located on the 8th floor of West Africa House, this open-air rooftop bar and garden is the best spot for a cocktail with a view.
Goodness Gracious is open from Wednesday to Sunday throughout April and September, weather permitting, and for special annual events. The space is also available for hire as a wonderful addition to the hire of OH ME OH MY. Please note that the rooftop bar does not take bookings due to being weather dependent and operates on a first-come, first-serve basis.
Location: West Africa House, 25 Water St, Liverpool L2 0RG
Contact: [email protected]
7-Mason's Liverpool
At Mason's Liverpool, it's a place that's all about celebrating food, drink, music, and showmanship. Mason's is not just a bar; it's an experience. Mason's has something for everyone, from the best bottomless brunch in the city to late-night booths.
They offer a variety of events, including the Soirée Supper Club, Tokyo Disco, and Soulful Sundays, each providing a unique atmosphere and experience. Their cocktail masterclasses are a hit, where you can learn to make and enjoy three signature cocktails with one of their trained bartenders.
The energy at Mason's is electric, thanks to their talented DJs and saxophonists who provide the beats every Friday, Saturday, and Sunday evening. So, whether you're looking for a place to brunch, a cocktail masterclass, or just a great night out, Mason's is the place to be.
Location: 42 Seel Street, Liverpool, L1 4AU
Contact: 0151 665 0510
Email: [email protected]
8- 360 Sky Bar
Elevate your evening at 360 Sky Bar, a rooftop bar that offers more than just drinks. This is where the city's skyline is your backdrop, and the atmosphere is as intoxicating as the cocktails. Whether you're looking to host an intimate birthday party, celebrate a special occasion with friends and family, or plan a large corporate event, their events managers will help you plan every detail, large or small.
Located on Old Hall Street in Liverpool, 360 Sky Bar is a part of the Gino D'Acampo's chain, promising quality and an unforgettable experience. So why not take your evening to new heights? Enjoy the view, the atmosphere, and the exceptional service at 360 Sky Bar.
Location: Gino D'Acampo, 360 Sky Bar & Sky Bar Terrace, Old Hall Street, Liverpool
Contact: [email protected]
And that concludes our tour of the top rooftop bars in Liverpool. Each one offers a unique experience, so why not try them all? Enjoy the views, the drinks, and the unforgettable memories you'll surely make.
You may also like: 10 Best Bars in Liverpool You Need To Visit
Rooftop Bars FAQs
We've answered some of the most frequently asked questions about the best rooftop bars Liverpool below:
Where is the highest rooftop bar in the world?
Prepare to elevate your senses at the crown jewel of the Liverpool skyline – "Altitude X." This astonishing rooftop bar redefines indulgence and stands proudly as the highest rooftop bar in the world! Located atop the majestic Liverpool Tower, this haven of luxury treats you to panoramic views of the city, creating an enchanting ambience that is second to none. Sip on handcrafted cocktails while being mesmerised by the breathtaking vistas below.
What is the main pub street in Liverpool?
The heartbeat of Liverpool's pub culture echoes loudest on Bold Street! This bustling thoroughfare houses a delightful array of charming pubs, each offering its unique blend of history, culture, and libations. Bold Street invites you to indulge in a lovely pub crawl, where you can savour various beverages, from local ales to exotic cocktails. Bold Street's lively and welcoming atmosphere is a testament to the city's rich heritage and vibrant modern spirit. The restaurant and glass terrace on this street isn't to be missed! Alternatively, you can go for rooftop cinema nights if you're not a massive fan of drinking.
Where do celebrities drink in Liverpool?
In the enchanting city of Liverpool city centre, celebrities flock to the prestigious "Starlight Lounge." This exclusive hideaway, tucked away in the heart of the city, offers an opulent and intimate setting for stars seeking solace. Here, you may find yourself rubbing shoulders with renowned actors, musicians, and athletes, all while relishing exquisite concoctions prepared by master mixologists. The Starlight Lounge promises an evening of unparalleled elegance and sophistication. In addition, they also like afternoon tea at one of Liverpool's many cafes.