Christmas Party Birmingham

Christmas Party Birmingham
Welcome to Birmingham's festive wonderland! Get ready for unforgettable Christmas parties, unique Birmingham Christmas party venues, exclusive parties, and a true festive spirit. Whether it's an office Christmas party, a private Christmas party, or a festive night out, we've got you covered. Let the celebrations begin!
Launching The Festive Season In Birmingham
As the festive season approaches, Birmingham city centre truly comes into its own. The city buzzes with excitement, with office Christmas party planners scouting the perfect venue and locals eagerly anticipating Christmas party nights. From bustling markets to lively venues, Birmingham city centre is all set to host epic Christmas parties and festive celebrations.
It's no wonder that Birmingham is a top choice for many party goers during this festive time of the Christmas party world. With venues like Escape Live offering a unique twist to the traditional Christmas party, it's the ideal setting for those looking to add a sprinkle of adventure to their festive celebrations.
So, as you gear up for the holidays, know that Birmingham stands ready to make your festive season an unforgettable one. Whether you're local or just visiting, the city promises a memorable Christmas experience. Let's celebrate a spectacular Christmas party together!
Christmas Party Venues In Birmingham
Birmingham's versatility shines through its array of Christmas party venues. The city is home to the stunning parkland golf course, the perfect venue for those who fancy a touch of luxury and expansive views. For those drawn to vibrant rhythms and lively atmospheres, the distinctly Latin vibe of Revolución de Cuba stands out. The Clayton Hotel, with its blend of sophistication and comfort, offers a refined backdrop for festive gatherings. Not to be overlooked are the myriad of stylish venues peppered along Broad Street, each with its own unique charm.
And for those who seek a memorable experience, the escape rooms in the heart of Birmingham offer a distinctive blend of challenge and celebration, making them an increasingly popular choice for your Birmingham Christmas party.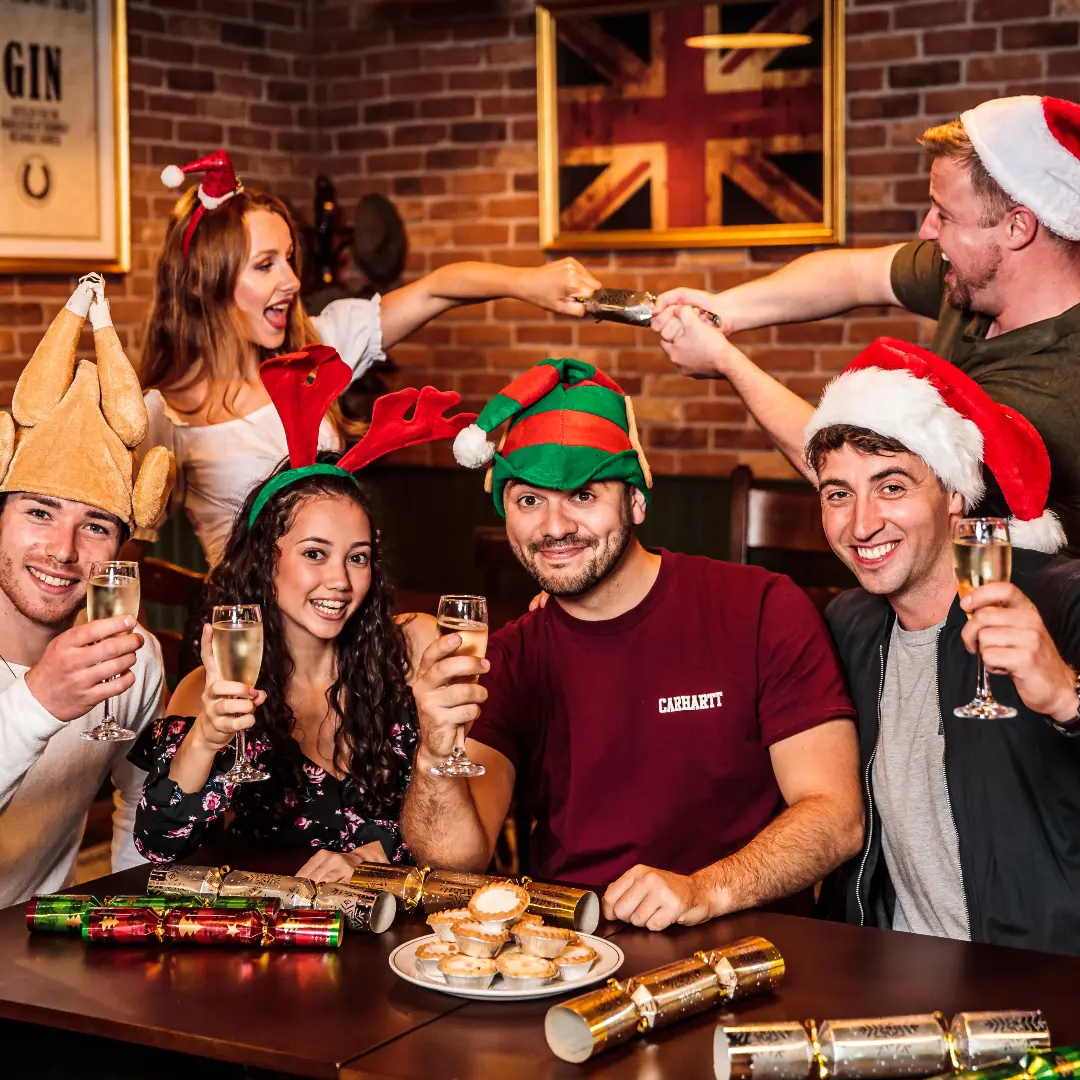 Why Opt For Escape Live for Your Birmingham Christmas Parties?
Escape Live Birmingham totally transforms the idea of what a Christmas party can be, intertwining the festive decorations and festive packages with the thrilling buzz of escape rooms. This isn't just your average party venue; it's a private party in a wonderful place where teams really come together, friendships are strengthened, and the Christmas spirit is felt all around.
Dive into our fantastically crafted escape room scenarios and feel the excitement mount, hear the laughter fill the air, and experience the joy as you and your team solve the puzzles together. But it's not just about escaping a room – it's about diving deep into a story, working hand-in-hand with friends or colleagues, and celebrating your Christmas in a completely unique and exhilarating way.
Escape Live Birmingham offers a unique twist to traditional Christmas celebrations. Not only do we provide an epic Christmas party venue, but we also present a chance to indulge in thrilling escape room experiences. It's the perfect blend of festive fun and adrenaline-pumping adventure!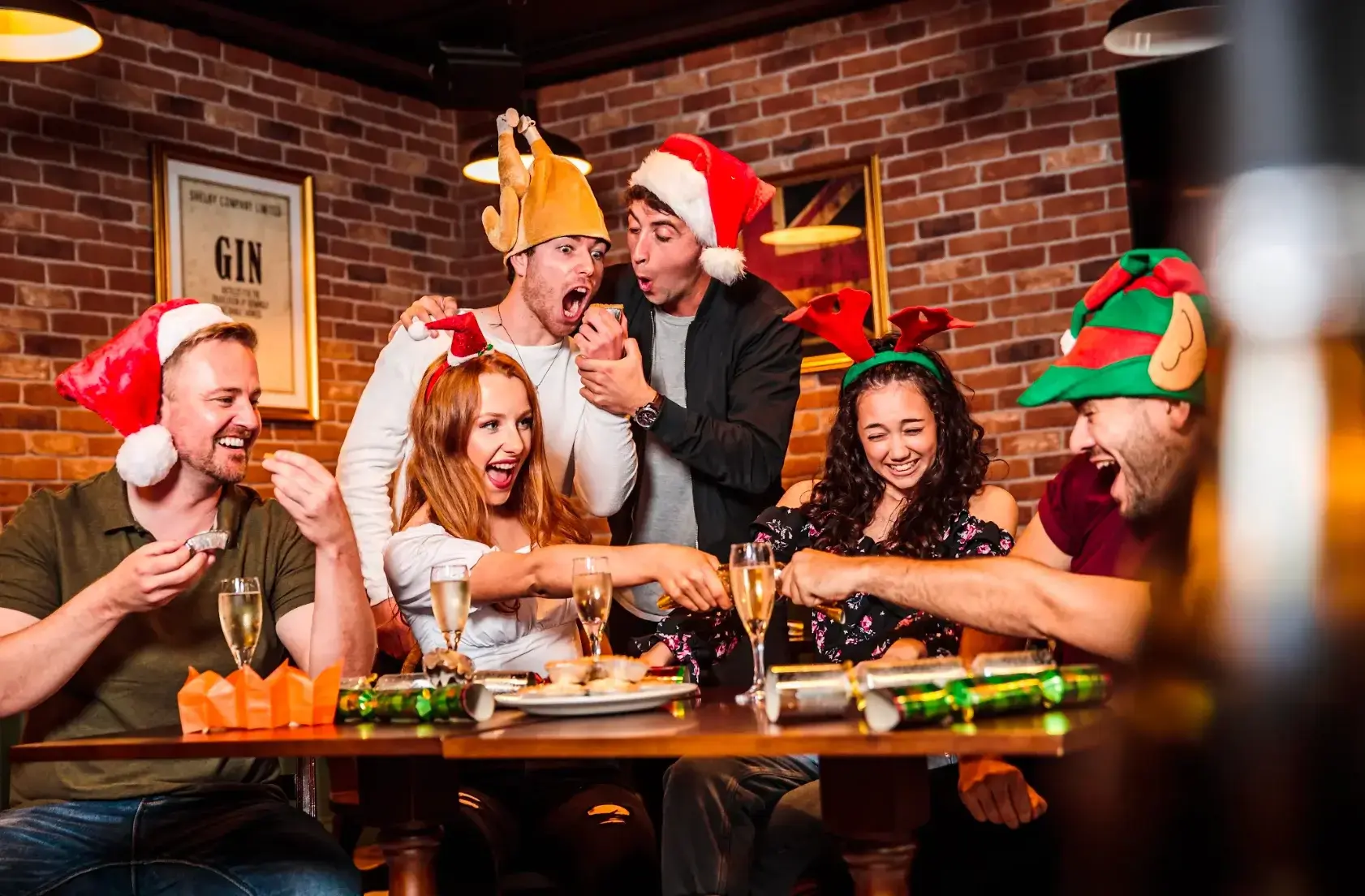 Booking and Availability
Securing your spot at Escape Live for a memorable Christmas party is straightforward and hassle-free. Follow these easy steps:
1. Visit Our Website: Head to the official Escape Live Birmingham website. There, you'll find a dedicated section for Christmas bookings.
2. Choose Your Room: Browse our range of festive-themed escape rooms. Each room description provides details about the difficulty level, duration, and recommended group size.
3. Select a Date & Time: Using our user-friendly booking calendar, pick a date and time that suits your party's needs.
4. Provide Party Details: Fill in the required details about your group. This will help us ensure your experience is tailored to your party size and preferences.
Confirm & Pay: Once you've filled in all the details, you'll be guided to our secure payment gateway. Make the payment, and voila, your booking is confirmed!
Remember, if you have any special requests or questions, our customer service team is just a call or email away, eager to assist.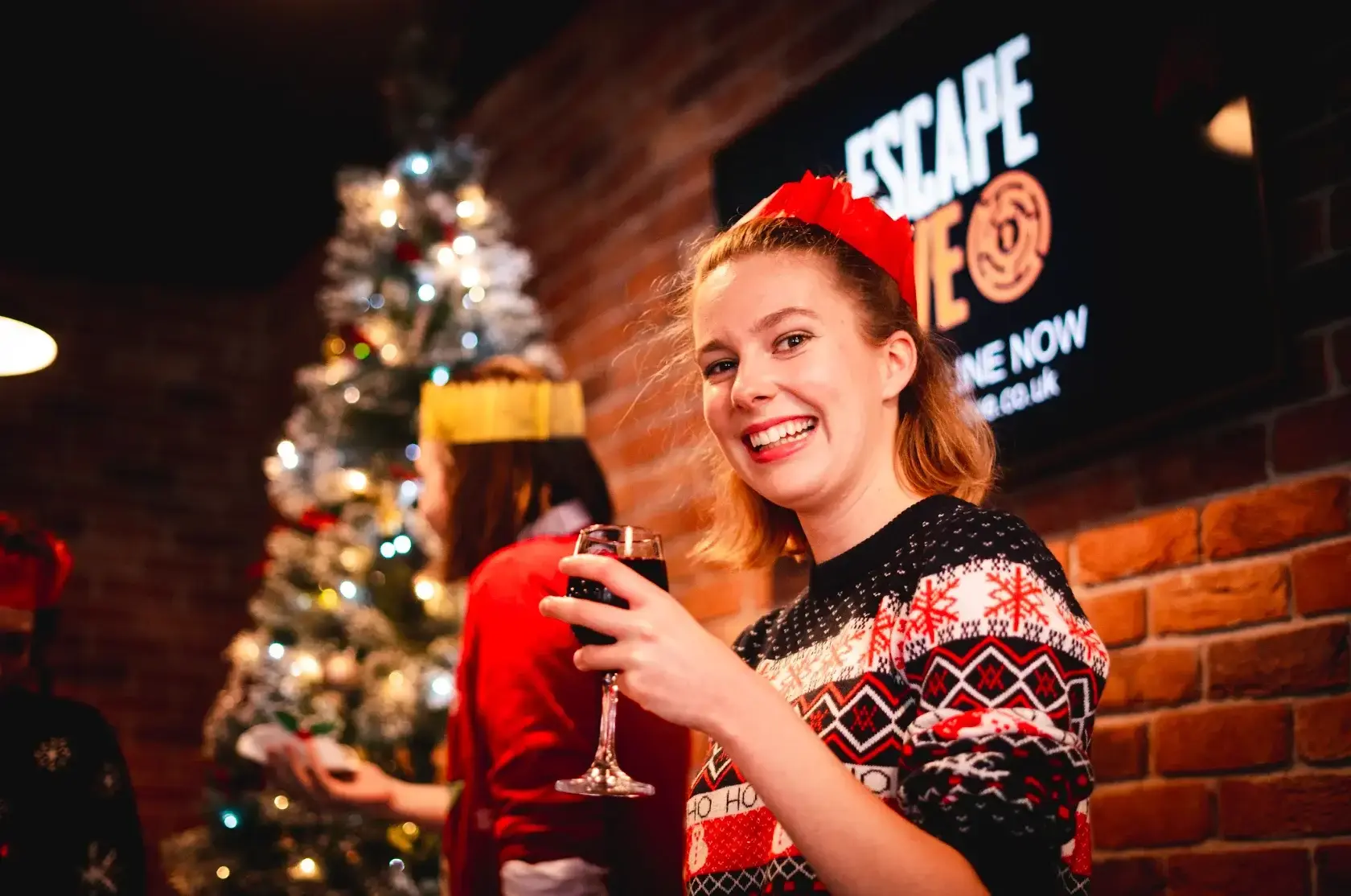 Christmas Testimonials
A fantastic choice!
"Our company's Christmas celebration at Escape Live's venue was a fantastic choice. The setting was tastefully decorated, and the holiday spirit was in the air. The team at Escape Live was incredibly helpful in planning our event, and everything was executed flawlessly. It was a night to remember, and we look forward to returning next year."
David L.
Our team had a blast,
"Escape Live provided the perfect backdrop for our corporate Christmas party. The venue was transformed into a festive paradise, and the attention to detail was impressive. The staff made sure every aspect of the event was tailored to our needs. Our team had a blast, and we can't thank Escape Live enough for making our holiday celebration so special."
Amanda M.
A magical atmosphere.
"As a first-time event planner for our company's Christmas party, I was thrilled with Escape Live's venue service. The space was beautifully adorned, and the holiday-themed decorations created a magical atmosphere. The catering was exquisite, and the staff was incredibly accommodating. It was a night of joy and celebration we won't soon forget."
Mike R.
The perfect choice
"Escape Live's corporate Christmas party venue was the perfect choice for our organization. The venue was beautifully transformed, and the holiday spirit was palpable. The entire planning process was seamless, and the staff's professionalism was outstanding. Our colleagues had a wonderful time, and I can't recommend Escape Live enough."
Laura S.
FESTIVE HIGHLIGHTS TO CHECK OUT

A Festive Invite
Christmas in Birmingham pool is a vibrant time, with many seeking memorable ways to celebrate. At Escape Live, we provide a distinctive experience, blending the joy of the festive season with the thrill of puzzle-solving.
Our escape rooms offer a unique opportunity to gather with friends or colleagues testing your teamwork and problem-solving skills. It's not just about escaping; it's about enjoying different festive fun together during your shared Christmas parties.
We invite you to consider Escape Live for your Christmas celebrations this year. It's a chance to do something out of the ordinary amidst the traditional festivities.
From our team to you, we hope you have a fantastic Christmas season and look forward to seeing you at Escape Live.
FAQ's
Here are some of your frequently asked questions about shared Christmas parties in Birmingham.
What Are The Best Christmas Party Venues In Birmingham?
Birmingham boasts a diverse range of festive venues. Apart from Escape Live, which offers a unique blend of entertainment and festivity, the city hosts venues such as the Clayton Hotel, Revolución de Cuba, and numerous venues along Broad Street. Depending on your preferences, you can opt for cocktail clubs, traditional banqueting halls, or venues with a panoramic view of the city's festive lights.
Where Can We Celebrate Our Christmas Party?
You're spoilt for choice in Birmingham, especially when it's time for the annual office Christmas parties. For a distinctive twist to the festive celebration, why not take on the challenge of an escape room? Escape Live Birmingham offers an exciting puzzle-solving experience that will add a dash of adventure to your team's holiday festivities.
If a traditional vibe is more your style, Birmingham's city centre has lots of venues perfect for office Christmas parties. Whether you're in the mood for a sit-down dinner in a nice restaurant, a night of dancing in one of the city's clubs, or a bespoke event space to create your own winter wonderland, you'll find it all here.
Is Birmingham Good To Visit At Christmas?
Absolutely! Birmingham transforms into a winter wonderland during the Christmas season. From the Birmingham Christmas Market that draws visitors from all over the UK to the enchanting light trails in Birmingham Botanical Gardens, the city is alive with festive spirit. Add to this the numerous events, shopping opportunities, and huge range of festive culinary delights, and Birmingham emerges as a top destination for Yuletide celebrations.