Christmas Party Liverpool

Christmas Party Liverpool
As the festive season approaches, the atmosphere in Liverpool becomes increasingly vibrant. Liverpool city centre is adorned with twinkling lights and festive melodies. With the festivities begin, everyone is on the lookout for that perfect Christmas party spot, perhaps one offering shared Christmas party nights or private Christmas parties.
Enter Escape Live – not just a venue but an immersive adventure that promises a Liverpool Christmas party like no other.
Kicking Off The Festive Season In Liverpool
It's that time of the year when Liverpool sparkles a tad bit brighter, and everyone's in search of the best Christmas party venues. Welcome to Escape Live – where we promise not just another Christmas do but an experience that's genuinely unique and memorable.
Escape Live is not just an escape room venue for party nights; it's an immersive experience that brings people together through the power of play. Our themed rooms are meticulously crafted to challenge and delight, ensuring your Liverpool Christmas parties are filled with laughter, excitement, and a touch of mystery.
Christmas Party Venues In Liverpool
With its rich history and vibrant culture, Liverpool offers many venues for Christmas celebrations. From riverfront restaurants and cocktail bars to traditional pubs and grand banquet halls, the city centre is teeming with places ready to play host to your festive soirées, serving fantastically festive food and a festive menu that caters to all tastes.
In this mix, Escape Live stands out as a unique option for a Christmas party venue that combines entertainment with team-building. Our escape rooms are not just games but an opportunity to create lasting memories with friends, family, or colleagues. It's a place where the usual Christmas party script is flipped, and the guests become the stars of their own festive story.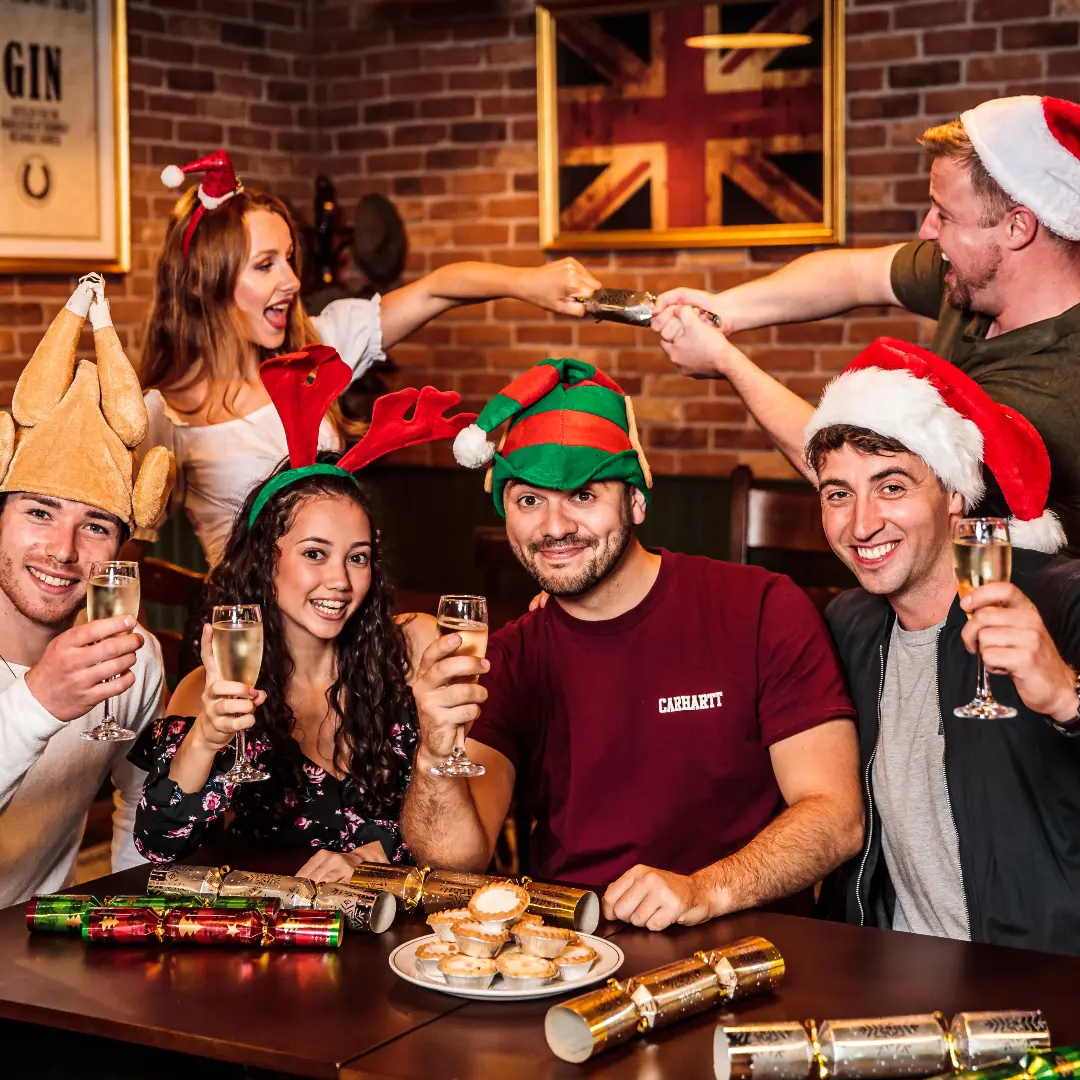 Why Choose Escape Live for Your Liverpool Christmas Party?
Choosing Escape Live for your Christmas party in Liverpool means opting for an experience that goes beyond the usual. Our escape rooms are designed to be challenging and enjoyable, encouraging teamwork and critical thinking. As you and your party navigate the puzzles and mysteries, you'll create a shared story that will be remembered long after New Year's Eve and Christmas Day has passed.
Our dedication to creating an immersive and inclusive atmosphere sets Escape Live apart from other Christmas party venues in Liverpool. From the moment you step through our doors, you'll be enveloped in the world we've created, leaving the winter chill and festive stress behind. Our team is on hand to ensure your party runs smoothly, and our rooms are adaptable to accommodate groups of various sizes. After all the excitement, consider taking a relaxing short break in the heart of Liverpool.
The Ultimate Christmas Escape
Whether you're celebrating the holiday season with family, friends, or colleagues, we have an escape room experience bound to make your Christmas party memorable. Check out our experiences in Liverpool for your Christmas party.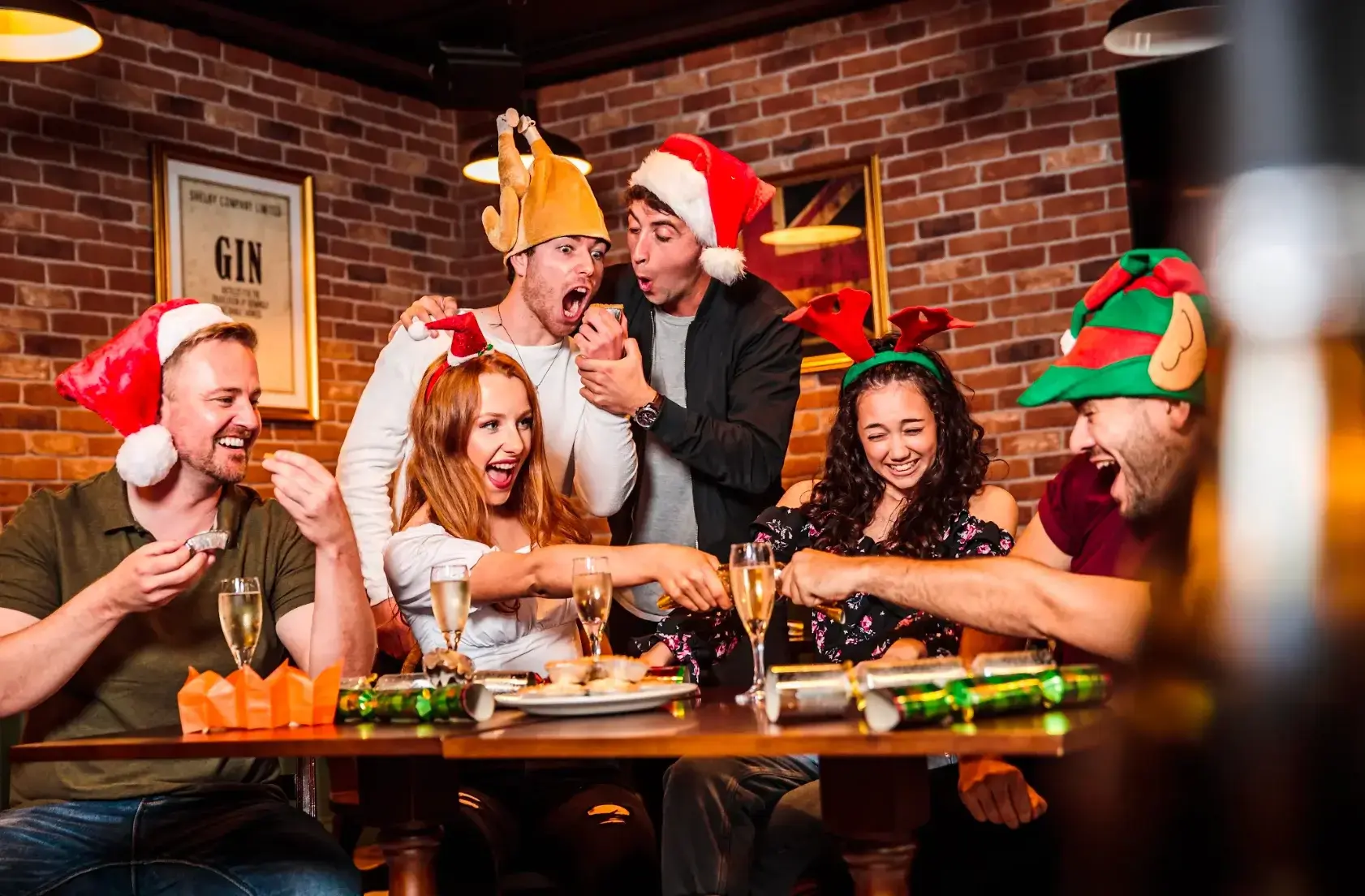 Booking and Availability
Securing your spot at Escape Live for a memorable Christmas party is straightforward and hassle-free. Follow these easy steps:
1. Visit Our Website: Head to the official Escape Live Liverpool website. There, you'll find a dedicated section for Christmas bookings.
2. Choose Your Room: Browse our range of festive-themed escape rooms. Each room description provides details about the difficulty level, duration, and recommended group size.
3. Select a Date & Time: Using our user-friendly booking calendar, pick a date and time that suits your party's needs.
4. Provide Party Details: Fill in the required details about your group. This will help us ensure your experience is tailored to your party size and preferences.
Confirm & Pay: Once you've filled in all the details, you'll be guided to our secure payment gateway. Make the payment, and voila, your booking is confirmed!
Remember, if you have any special requests or questions, our customer service team is just a call or email away, eager to assist.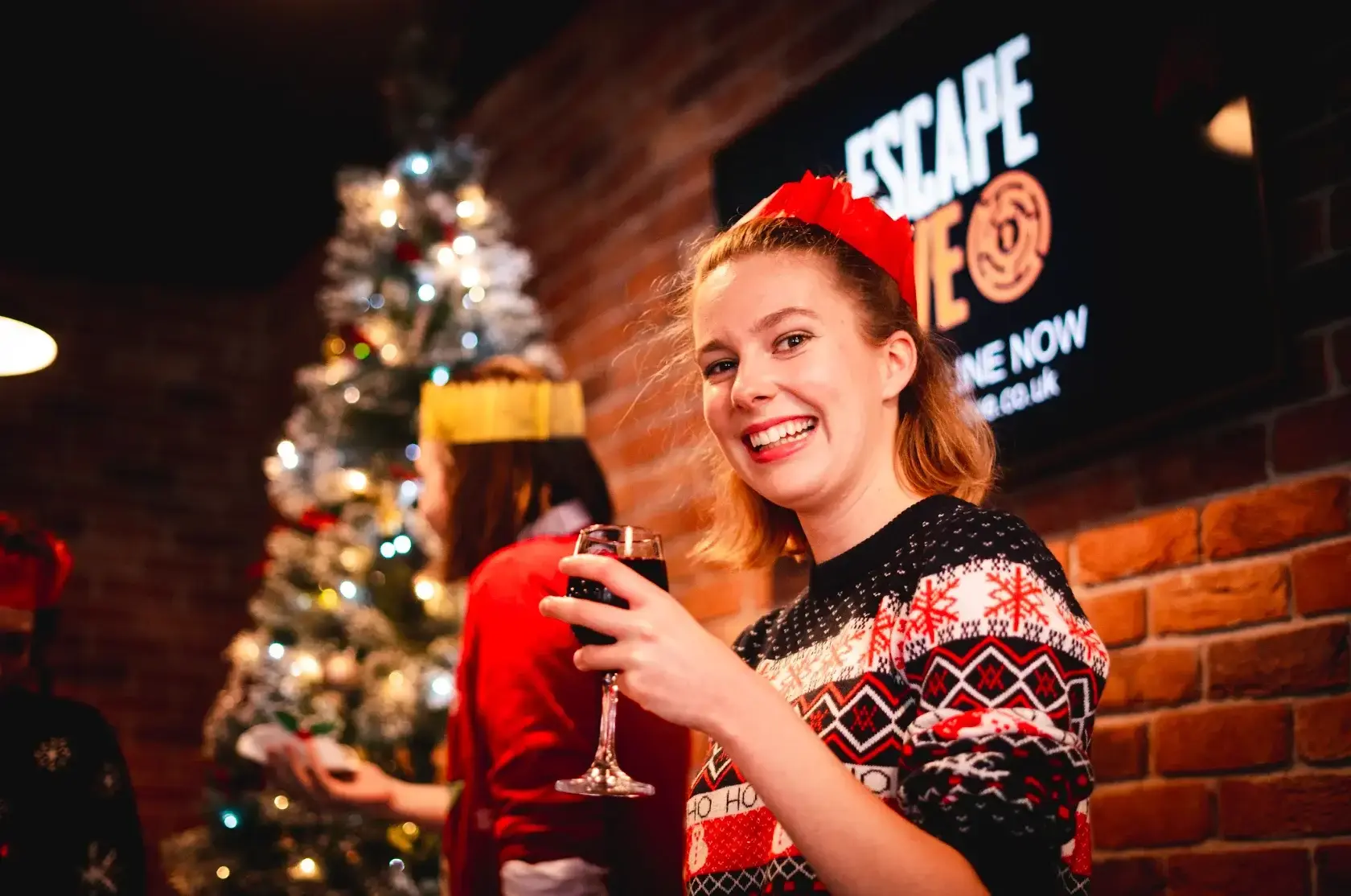 Christmas Testimonials
A massive success!
"Our company's holiday party at Escape Live was a massive success! The venue was beautifully decorated, and the staff went above and beyond to ensure every detail was perfect. The festive atmosphere and delicious catering made it a memorable night. I can't thank Escape Live enough for making our Christmas party a hit!"
Sarah J
Exceeded our expectations.
"Escape Live's Christmas party venue service exceeded our expectations. The space was elegantly decorated, creating a warm and inviting ambiance for our team. The planning process was seamless, and the staff's attention to detail made everything run smoothly. We had an incredible time celebrating the holidays at Escape Live."
Mark S.
A breeze
"Organising our company's Christmas party with Escape Live was a breeze. The venue was beautifully transformed into a winter wonderland, complete with holiday decorations and festive lighting. The catering was top-notch, and the staff was attentive and professional. Our colleagues are still talking about how wonderful the evening was."
Emily P.
Elegant and perfect
"Our team had a fantastic time at Escape Live's corporate Christmas party venue. The setting was elegant and perfect for our event. The holiday-themed décor and lighting created a magical atmosphere, and the catering was absolutely delicious. Thanks to Escape Live, our employees had a memorable and enjoyable holiday celebration."
John M.

A Festive Invite
Christmas in Liverpool is a vibrant time, with many seeking memorable ways to celebrate. At Escape Live, we provide a distinctive experience, blending the joy of the festive season with the thrill of puzzle-solving.
Our escape rooms offer a unique opportunity to gather with friends or colleagues testing your teamwork and problem-solving skills. It's not just about escaping; it's about enjoying different festive fun together during your shared Christmas parties.
We invite you to consider Escape Live for your Christmas celebrations this year. It's a chance to do something out of the ordinary amidst the traditional festivities.
From our team to you, we hope you have a fantastic Christmas season and look forward to seeing you at Escape Live.
FAQ's
Let's take a look at some common questions about Christmas parties in Liverpool.
Is Liverpool Nice at Christmas?
Absolutely! Liverpool comes alive during the Christmas season. The city is adorned with festive lights, and the streets resonate with the sounds of carol singers and bustling Christmas markets. Popular spots like Liverpool ONE and the Albert Dock have special Christmas installations, making the atmosphere even more enchanting. With its rich history, friendly locals, and vibrant festive spirit, Liverpool is undoubtedly a delightful place to be at Christmas.
What Day Is Best For a Company Christmas Party?
The best day for a company Christmas party often depends on the company's preferences and its employees' availability. Traditionally, Fridays and Saturdays in December are popular choices as they allow attendees to relax without worrying about work the next day. However, midweek parties, especially on Wednesdays or Thursdays, can be more cost-effective and offer greater venue availability. It's always a good idea to consult with employees or send out a survey to find a date that suits the majority.
Where Are The Best Christmas Parties In Liverpool?
Liverpool boasts a range of venues that host memorable Christmas parties. There's something for every preference, from luxurious hotels and iconic landmarks to trendy bars and unique spaces like Escape Live. Escape Live, in particular, offers a distinctive Christmas party experience with its immersive escape rooms, making it a top choice for those seeking something different from the traditional festive gathering.