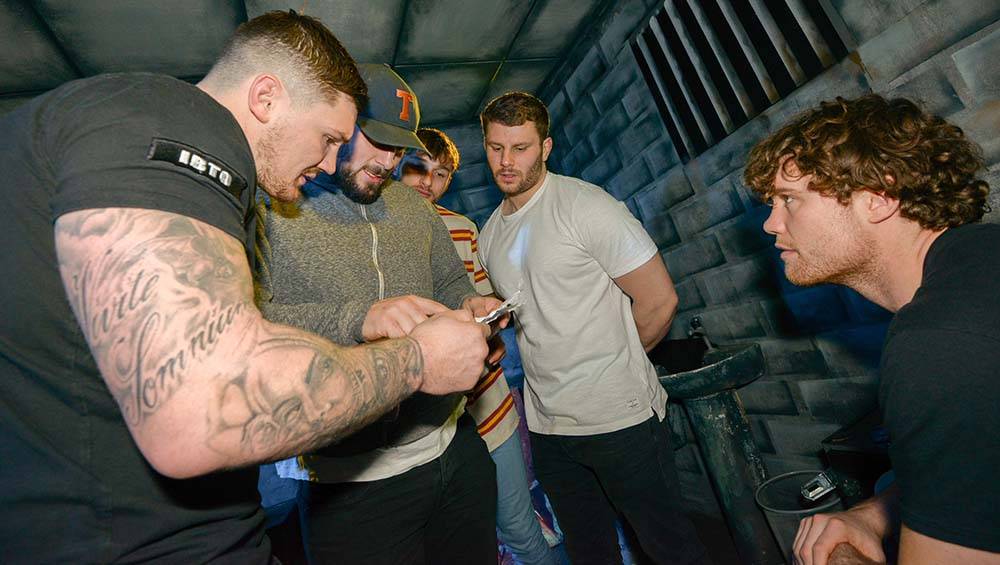 Wasps Rugby stars chose brains over brawn to tackle the challenges of a popular city escape venue.
The Aviva Premiership team sent 12 players down to try their hand at the two different escape experiences available at Escape Live Coventry, based at Fargo Village, as part of a team-building exercise.
First team stars including Josh Bassett, James Gaskell, Guy Thompson, Rob Miller and Jack Willis were among the players to take on the challenge.
The group were split into two separate teams, with one group taking on the Prison Break experience and the other cracking codes in the Casino Heist room.
Both teams impressed in the challenges, with the Prison Break team escaping with three minutes 17 seconds to spare, only needing one clue.
The Casino Heist team had 23 seconds left on the clock when they solved the final puzzle, but were able to steal £440,000 out of £500,000 during the heist.
Back row star Guy Thompson was part of the Prison Break team, he said: "It was totally unexpected, but we really enjoyed it.
"We didn't quite know what to expect when we came here, they gave us a little bit of instruction and then left us to our own devices which was really good.
"When we went in, we looked at everything and tried to take our time. I think being involved in a team sport helped us massively, we spoke a lot, didn't argue and tried to keep calm."
Full-back Rob Miller took on the Casino Heist, he said: "We were really good surprisingly! We had a few of the brutes in our team, so we were expecting to end up not getting many of the clues.
"It was really good. There are frustrating parts, where you go in initially and don't know where to start, but then you start building up the clues. Everyone had a good day.
"Some of us had done a few things similar previously and ultimately it gets competitive straight away. I'm sure we'll be back and thanks to the guys for having us down"
Rory Bailey, manager of Escape Live Coventry, praised the Wasps players as two of the best groups they have had at the venue.
He said: "They really are some of the best results we have seen at Escape Live Coventry.
"The guys split themselves into two teams, with both teams proving how valuable it is to work together to escape. We were very impressed with their organisation and leadership skills – the way the Prison Break team cracked code after code without any clues was impressive.
"You could tell each team wanted to beat the other, there was definitely a friendly competitive spirit. We look forward to welcoming them back soon to switch rooms and see if they can beat each other's times!
"Escape Live is a great place for team-building and corporate exercises and, even for a team such as Wasps who have to be together as a unit on the field, there are still great benefits in putting themselves through this kind of test.
"We are attracting more and more businesses too, who want to give their team something that makes them work together and think laterally in order to achieve a common goal."
For more information on Escape Live log onto www.escapelive.co.uk